If you want more business, more investment, better jobs, or greater tax revenue, you'll probably need to market your community to outsiders.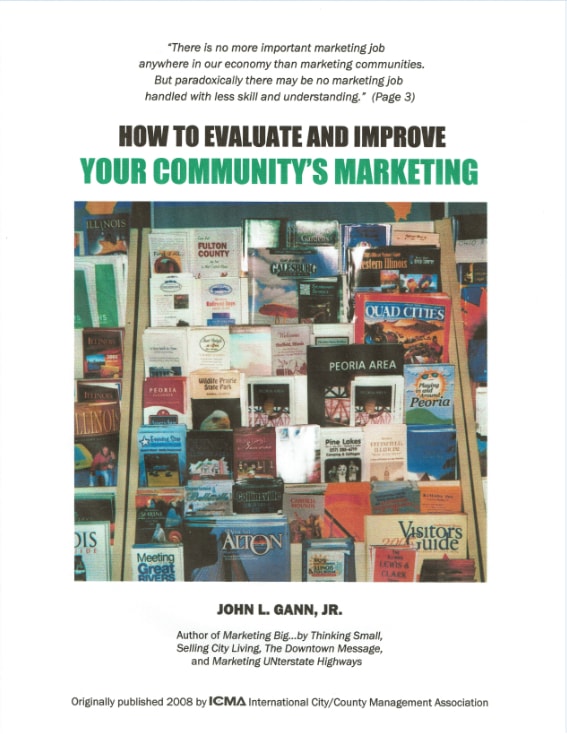 But instead of just doing what other places do, you could get a bigger payoff from your marketing for the same or less money.
Because other places often fail to do what is absolutely essential for better results: they don't evaluate what they've been doing.
It's ideal for a city or county government, economic development agency, visitors bureau, chamber of commerce, or downtown group. It's for any organization that spends thousands on websites, brochures, advertising, logos, videos, publicity, trade shows, "branding" slogans, or special events.
Money Saved

It's How to Evaluate and Improve Your Community's Marketing by John L. Gann, Jr., originally published by the International City/County Management Association.

It gives you over 80 fully annotated questions to ask to uncover Marketing Smarter ways to save money and turn your message into action.

And its pointers—illustrated by both case studies and graphic examples—are based not on what other communities do but on the best marketing practices from the competitive world of business.

As How to Evaluate makes clear, marketing is more than simply logos and cute slogans. So it shows you how to make better decisions on your product, your market, your strategy, and your appeal. Then it helps you execute those decisions through your message, your graphics, and your media.
Helping You to Better Results

…is John L. Gann, Jr., President of Gann Associates, who has applied Marketing Smarter ideas to strategies and actions for his clients.

He does training on community marketing and has been published on the subject in The Wall Street Journal, Public Management, municipal league and economic development publications.

And unlike other marketing providers, he knows the "product"--cities--having had an urban development Extension appointment at Cornell University and served as a city department head and division head at Chicago's metro planning agency.